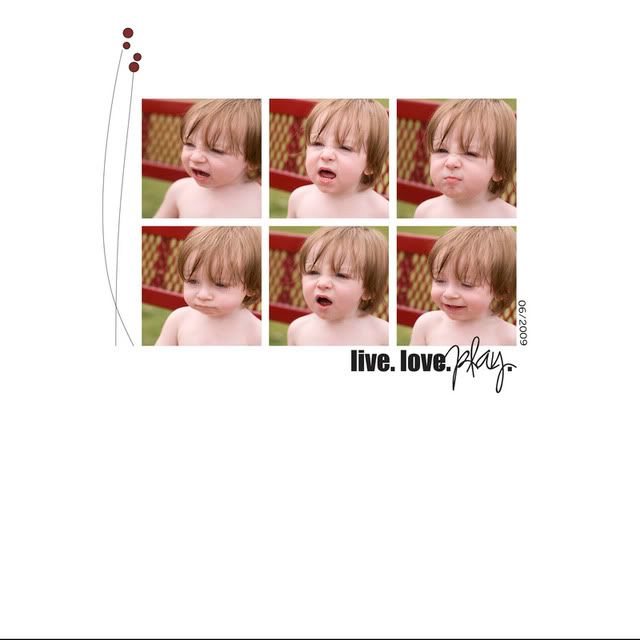 ...
months
, that is! My little man is turning 16 months old this Saturday. 
This scrapbook page shows all the funny faces he made in a matter of 30 seconds or so. He looks like he is yelling and mad but he is simply sitting on a bench at the splashpad and telling me about something (couldn't quite figure out what he was saying). I thought his faces were so hilarious!
He blows me away with his cognitive and social skills. He has had a handful of words but just within the past couple of weeks his speech has taken off. He is a man who knows what he wants - he walks around, purses his lips together just enough to see the gap between his teeth, and says NO (his favorite word right now). Oh, and MORE.
He worships the ground Noah walks on. He adores Evy with all of his heart. He gives Daddy hugs, kisses, and says BYE every morning. He puts both his arms around me and gives me huge bear hugs throughout the day. He is such a loving boy. 
He is definitely a sports kinda guy. Give him a ball and he is happy. His choice games are golf, baseball, football, soccer, and basketball. He also has quite the arm... his throw packs a punch. I have to constantly watch over evy because Jude is always using her as target practice. Thankfully I only let him have the squishy balls to play with now! Learned that lesson after getting pelted in the head a couple times with a real baseball. 

My heart swells with love for him... for all my kids. I am blessed beyond words.